1. Why should I become a client at this office?
We truly believe that our office is incomparable to the industry standard. We believe that addressing and controlling financial risk and lifestyle needs are more important than trying to time the market and lifestyle events.
We develop long-lasting, loyal relationships by putting your needs first and making sure we are being fair to all parties concerned. We have integrity with every relationship we make, because without integrity any relationship is superficial and unreliable. Our office gains a client's trust by providing exceptional service focused on their unique needs.
As entrepreneurs we are continuously educating ourselves to ensure we are giving the best service to our clients. Making sure we are keeping up to date with new software and programs to ensure we can provide our clients with the most up to date information.
Overall our team is put together with knowledge, determination, and passion for what we do.
2. What services do you provide and what can I except?
During our initial interview we will discuss your financial and personal goals and objectives. We will discover what our office can do to help you and your family to reach your lifestyle goals. Then we will provide you with a personal financial plan with steps on how to attain the life you want to live.
Our services include Investment, Retirement, Estate, and Tax Planning and we can offer High Yield Savings Accounts, GICs, RRSPs, RRIFs, LIRAs, LIFs, Mutual and Segregated Funds, Annuities, Life and Disability Insurance, Group Benefits, RESPs, and Mortgages (by referral)*.
3. What are the risks when investing?
We define risk not only as market volatility, but also in terms of purchasing power (ie. inflation) and long-term goal achievement.
Our clients are structured by our Asset Allocation Methodology which is planned toward your long-term goals while recognizing and minimizing the risks of investing. We will be pleased to detail the personal risks you may face and explain our practice safeguards.
4. What follow-up service can I expect?
All Clients meet with our Advisor at least once a year (Annual Review). In the interim we encourage our clients to contact us as your plan indicates or as situations arise. Should your personal goals, objectives, or needs suddenly change, please call our office for immediate service (9:00 a.m. to 4:30 p.m., closed 12:30pm to 1:30pm for lunch, appointments may be scheduled evenings and during the weekend based upon availability).
Statements will be issued to you detailing your investment holdings at month end when any non-periodic investment activity occurs, and at every quarter end.
Access through the internet is available to view your daily updated accounts at your convenience.
5. I tend to be guarded with my personal information
In order that we may provide sound and appropriate financial planning, it is a necessity that clients provide full and accurate disclosure of all relevant information. Your personal information will be kept strictly confidential as detailed in your welcome package from our office.
6. How is your Financial Advisor compensated?
Our compensation is received from the companies in which you invest/borrow/contract with and is based on the initial amounts and/or the ongoing value of the assets under administration. Detailed disclosure is provided in accordance with any regulatory requirements. We nurture networks with innovative professionals within the community, such as tax advisors and legal advisors in order to better assist our clients in Planning Life Financially.
7. Do you provide references from your clients?
No. We do not disclose client names due to confidentiality.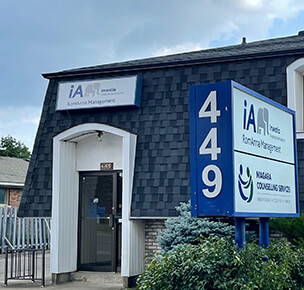 location:
449 Thorold Road
Welland, ON L3C 3W7
phone:
905-735-5555
email:
General Contact

Roman A. Groch

Website: