back
June 2015
The weather is not the only thing changing this time of year! As we welcome the warmer, summer weather children and adults alike are eager to enjoy the beautiful weather and activities that summer brings. We wish all of our clients a safe and fun-filled summer season. Remember to wear your sunscreen, a hat and how important it is to stay hydrated during these next warm couple of months!
Recent and Upcoming Changes:
In the month of June we welcomed two new members to our team. Alexandra Moncada and Sarah Hardt join our team as Client Relations Coordinators. Let's see what this dynamic duo has to offer…


We are happy to have both Alex and Sarah join our team at HollisWealth. Unfortunately Jenna L. Seniuk will not continue working at HollisWealth due to personal reasons. We wish Jenna all the best.
Growing technologically, professionally and personally:
Here at HollisWealth we are always busy no matter what time of year it is! Alex and Sarah have been educating themselves by taking courses about Money Laundering, Canada's Anti-Spam Legislation and various others that are important not only to us but to our clients as well. Both Alex and Sarah will be in Toronto on September 15th and 16th to attend the first national administrator's conference known as "IGNITE". At this conference Alex and Sarah will be joining industry experts and partners for timely, relevant hands on experience for professional development!
Over the next few months, Alex and Sarah will be calling clients to introduce themselves and book in clients for their Annual Reviews. Please keep in mind when booking appointments for reviews with Roman; we require 6-10 business days prior to your appointment. This ensures sufficient time to prepare all necessary documents, which includes a mailed Agenda before your meeting to ensure efficient use of our time together. This also allows for us to address all of your relevant questions and concerns when you meet with Roman.
In the month of July, Roman will be attending a conference with Fidelity Investments from July 22nd and returning back to the office on Monday July 27th, 2015. Here Roman will once again have the opportunity to spend time with award-winning portfolio managers and regulatory experts from around the world to update, refresh and learn about areas such as new developments, Tax & Estate Planning, Financial Planning, new tools available in the industry and most importantly updates with regards to CRM2 and Compliance issues.
Financial Life Planning:
To have a successful succession plan it is very important to get your entire family involved in the process. Everyone wants to do what is best for their loved ones, but how do you know what is best for your family if you never asked them what is important to them. We continue to develop a process to better assist our clients and their families in reaching a common goal for family financial life planning. One such tool we use is the Retirement Vision that we ask our clients to complete each year before our meeting.
We have been initiating our goals to helping our clients in protecting their family, estate and assets. These steps can be as simple as making sure your Wills and Power of Attorney are in place to a Financial Plan to Life Insurance. We will continue to develop new solutions to new circumstances as they arise with our clients and family. Our goal is to help our clients make decisions to reach their goals in family financial life planning.
CRM2 (Client Relationship Model) – Extension of Phase 2 Implementation Date
The Canadian Securities Administrators (CSA) has announced an amendment to the implementation date of Phase 2. Originally scheduled for July 15, 2015, the implementation date has been extended to December 31, 2015. Our office remains pro-active in trying to stay on top of all the regulatory changes, requirements and disclosure. To recap CRM2: Regulatory Focus is to…
CRM2- is intended to increase transparency for clients regarding the fees they pay and provide standardized reporting with regards to the performance of their accounts.
At our office we continue to disclose any fees that our clients can be subject to both verbally and/or in writing. In order to stay current with the latest requirements (CRM2) Fund Facts (information sheet) will now be given to clients on any new investments to ensure a better understanding of the investment being made.
Tip of the Quarter: Critical Illness Insurance – Something Healthy Individuals Do Not
Need However More And More Healthy Individuals Are Putting In Place.
Today, the need for critical illness protection is greater than ever. Why? Medical advances coupled with greater life expectancy make it more likely for you to survive an illness that would have been fatal in the past. And if you do survive a critical illness, you may find yourself with financial challenges that you hadn't considered such as loss of income, medical expenses or additional childcare.
If you are diagnosed with a critical illness and survive for 30 days, Critical Illness Protection can help you and your family by providing a one-time, tax-free benefit payment*, called a Critical Illness Benefit. You can use the money you receive from your Critical Illness Benefit to help replace your income while you recover, pay for additional care for your children or help with unforeseen medical expenses. In fact, you can use the money you receive for anything you want with no restrictions.
Canadians, on average, are living longer these days. Advances in medical science have made it so that some critical illnesses that would have been fatal a few years ago are now treatable, and even curable. That's great news for your family. However, living with a critical illness can bring with it financial challenges that you may not have considered.
That's where Critical Illness Protection can help. Contact our office to discuss this important option further.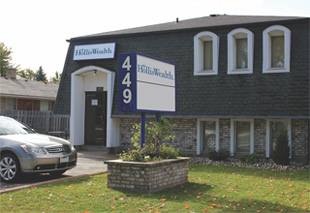 This newsletter was prepared by Roman A. Groch who is a registered representative of HollisWealth Advisory Services Inc. (a member of the Mutual Fund Dealers Association of Canada and the MFDA Investor Protection Corporation). This newsletter is not a publication of HollisWealth Advisory Services Inc. and the views and opinions, including any recommendations, expressed in this newsletter are those of Roman A. Groch alone and not those of HollisWealth Advisory Services Inc.
Investia Financial Services Inc. does not provide income tax preparation services nor does it supervise or review other persons who may provide such services.