back
June 2020
Let us give a big WELCOME to SUMMER! Although, it is looking to be a very different type of summer than most of us are used to, we all welcome the warm weather! Now that we have entered Phase Two of reopening, we are starting to be able to get back to some old pleasures that we probably didn't even realize we appreciated so much like shopping in a retail store or a mall, getting a haircut, and eating at a restaurant.
With the summer weather, we also welcome our Summer Office Hours. For the months of July and August, we will be closing the office at 4pm on Friday afternoons. Currently, our office is open by appointment only.
Each year we prepare an Annual Review for each of our clients. This is an important process to ensure we are current with the times, as well as ensuring your information is current, accurate and meeting your Financial Lifestyle needs. Preparing your review involves a detailed process that not only has us look back on the past year but also look at the upcoming year for potential needs that might arise and ensuring client files are up to date and accurate. Annual Reviews can be done via Webex meeting, telephone, or in person depending on your preference and comfort level. Annual Reviews will be uploaded to Client Portal and/or mailed before the scheduled meeting date for those who wish to do their Reviews by Webex meeting or by telephone.
Please note: For clients that require an evening appointment, Roman has set aside Monday and Tuesday evenings during the next few months. Please be advised that due to the demand for evening appointments, we are booking a month in advance.
For those clients who wish to have their Annual Review in person, we are asking that you please wear a face covering during your time in the office and sanitize your hands upon arrival (we have hand sanitizer available for you at the front reception).
Reminder: Daily Office Meetings
During the hours between 9:30 am to 10:30 am: should you call during this period, please leave us a message on our voicemail as we conduct our daily office meeting during this time and phones will not be answered. This time allows us to organize our day's tasks, review the previous day's work, discuss and complete client reviews and enquiries, as well as, review current rates, markets and updates on the latest news.
Online Deposits/Contributions to your Investment Accounts:
For deposits that you make online throughout the year, please update your Online Banking company name from "HollisWealth Advisory Services Inc." to "Investia Financial Services Inc" or "Investia Services Financiers". This will ensure that your deposits/payments are received in a timely manner to your account.
Around the Office:
Client Portal & New E-Signature Tool
If you have not registered for your New Client Portal which changed and improved November 2019, we highly advise you to take advantage of this great tool! We can securely upload important documents to you through this portal, and you can do the same for us. You will have access to tax receipts, statements, and more. With this comes a new E-Signature process for signing order instructions and updating your Client Information. This allows you to sign documents directly on your computer or smart phone from the comfort of your own home (or even on the go!). Please contact our office for more information or assistance in registering.
Education:
As an office, we have been joining in on conference calls to listen to what the managers have to say about the current and future states of the markets, so that we can best advise our clients in this uncertain time.
What You Should Know About CERB
The Canadian Emergency Response Benefit (CERB) is widely available to Canadian resident taxpayers.
You must meet the following requirements:
Reside in Canada, be at least 15 years old;
have stopped working because of reasons related to COVID-19 or are eligible for Employment Insurance regular or sickness benefits or have exhausted your Employment Insurance regular benefits or Employment Insurance fishing benefits between December 29, 2019 and October 3, 2020;
had employment and/or self-employment income of at least $5,000 in 2019 or in the 12 months prior to the date of your application;
and, have not quit your job voluntarily.
CERB provides a benefit of $500 per week for a maximum of 16 weeks which has recently been extended to 24 weeks. The government pays $2,000 for each four-week period. You may apply for CERB through the Canada Revenue Agency (CRA) or Service Canada. It is very important to only apply once. If you applied for CERB through Service Canada, you are required to submit an internet report every two weeks confirming your circumstances have not changed. If you applied through the CRA, you must reapply every four weeks and confirm that you are unable to find employment due to Covid-19. When submitting your first claim, you cannot have earned more than $1,000 in employment and/or self-employment income for 14 or more consecutive days within the four-week benefit period of your claim. When submitting subsequent claims, you cannot have earned more than $1,000 in employment and/or self-employment income for the entire four-week benefit period of your new claim.
Some CERB recipients will receive smaller payments for the 8 weeks extension.
If you were eligible for EI prior to March 15, 2020, you will receive EI not CERB. If you became EI-eligible after March 15, you will receive CERB regardless of which program provides you with greater benefit. You cannot receive EI and CERB at the same time. You must wait until your EI runs out and if you are still unable to find employment, you may then apply for CERB. Post-secondary and graduating high school students may be eligible for the Canada Emergency Student Benefit.
You may want to return or be required to repay the CERB if you:
return to work earlier than expected or receive retroactive pay from your employer;
applied for the CERB but later realize you're not eligible;
receive a CERB payment from both Service Canada and the CRA for the same period.
Usually when you receive taxable payments, the government withholds tax. This is not the case with CERB. This benefit is not tax-free. CERB is a taxable benefit that will be included as income on your tax return, so please set aside money to pay this tax bill. If you don't plan ahead for this, you may have a tax liability next April.
For all information and how to apply, please go to the Government of Canada's website: https://www.canada.ca/en/services/benefits/ei/cerb-application.html.
Border Restrictions to Stay in Place
The border between Canada and the U.S. will remain open only to temporary foreign workers, trade and commerce and vital health-care workers until at least July 21. Tourists and cross-border visits remain prohibited.
What is open in the Niagara Region? Niagara is officially in Stage 2!!
Can I get a haircut? Yes! Can I go out for Dinner? Yes, restaurants are starting to open up for patio service as well as delivery, pickup and curb side service! Can I get in a little Retail Therapy? Yes, malls are open! Can I go to the gym to help me get rid of the "Covid 15" pounds we all seemed to have acquired? No, not yet. Can I travel? No, Ontarians are being strongly urged to avoid all non-essential travel outside of the province. How many people can gather? Indoor and outdoor gatherings have been increased to 10 but remember to continue social distancing! Social distancing still means keeping 2 meters apart (that's equal to 3 French bull dogs for those of you who having been out walking your dog six times a day!) If you would like to get tested for Covid 19, a third location has opened at the Welland Hospital (along with the hospitals in St. Catharines and Niagara Falls).
Strategic Asset Allocation
Many of you have been wondering about how your portfolios are doing versus the current markets in these unprecedented times. Though not immune to the downside of the market, the downside of our clients' portfolios did not participate downwardly like the market, this is due to our process of Strategic Asset Allocation.
Strategic Asset Allocation is a portfolio strategy that involves setting target allocations for various asset classes and then periodically rebalancing back to the targets. Our specific asset classes involve the following: Cash (Savings Accounts & GIC's which will mature within 1 year), Income (longer term GIC's as well as Fixed Income / Bond Investments), Equity (Stock Market diversified related investments) Aggressive (Stock Market "specific" sector investments such as Precious Metals or Emerging Markets). The portfolio is rebalanced to the original allocations when they deviate or move away significantly from their original settings. Target allocations depend on several client factors such as "Risk Tolerance" and "Time Horizon" and obviously will change over time as these parameters change. "Strategic" Asset
Allocation is compatible with a "buy-and-hold" strategy as opposed to "Tactical" Asset Allocation which is more suited to an "Active Trading" approach. Both approaches emphasize diversification in order to reduce risk and improve portfolio returns. As a basic example of strategic asset allocation, we could illustrate the following: Mr. Jones has a portfolio consisting of 60% in equities (such as Stocks) and 40% in Fixed Income (such as Bonds or GIC's). If the equity markets perform well and the returns are decent Mr. Jones may end the year with his Portfolio balance consisting of 68% Equities and 32% Fixed Income. In this case Mr. Jones would, as part of his annual review, have some rebalancing trades in order to switch 8% from his Equity portion to his Fixed Income portion in order to reposition back to his original target of 60% / 40%. On the flip side, if the Equity markets underperform, returns are weaker and Fixed Income grows to become a larger weighting in the portfolio, a rebalancing trade or trades from Fixed Income to Equities can be executed.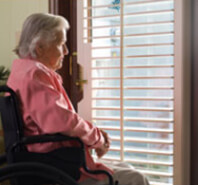 Covid-19 and the Cost of Social Isolation
Betty is 97.
Lives in an Assisted Living Facility.
Must receive and take all her meals alone in her room.
Has not participated in any group social activities for approaching 3 months now.
Has had no physical contact with family, friends, or co-residents for almost 3 months.
Everyday is the same in the small room and times and dates have lost any distinction.
TV no longer serves as a distraction.
Betty admits to profound loneliness.
She is protected from the Covid-19 virus.
But is she safe?
No one will deny the need to do all we can to keep our communities safe and healthy during the Covid-19 pandemic. This is especially true for our most vulnerable citizens.
And yet, it would be equally wrong to deny the short-term and long-term impact of the loss of association, community, physical contact and touch.
We know that social engagement and connection form a critical part of our life experience. This is especially true as move through later-life transitions. Our time with family, friends, peers, and community contributes to our sense of well-being, life meaning, joy, and purpose.
Social isolation can increase feelings of loneliness, impairing our mental and physical health. Spiritual bonds are often challenged and questioned during lonely times. This is especially difficult for those isolated and living on their own – at home or in a care facility.
Loneliness has been linked to heart disease, high blood pressure, elevated inflammation, anxiety and depression. These risk factors contribute toward chronic illness, and ultimately, can lead to premature death.
Part of the problem with the loneliness resulting from the Covid-19 isolation is the uncertainty. How long will this go on, and when can we once again connect, assemble and even embrace? For those who are in the high-risk category, will they even see a time when their world will open up, and if so, what will that look like?
We may not be included in the high-risk category, but we most likely know people who are. We can start with understanding and awareness, and move toward support and acts of loving kindness.
Tips for Dealing with Social Isolation:
Keep regular and frequent contact with those who are isolated.
An unexpected card in the mail is always a special treat.
To help create predictability, commit to a regular schedule of calls or 'window contacts' so your friends and loved ones have something to look forward to.
If you commit to a call or window contact – KEEP IT!
Window contacts or outside distancing present great opportunities to share pictures and videos. Bring some peanuts to feed the squirrels or seed to attract some birds.
Whenever possible, keep regular celebrations such as birthdays shared with phone, Zoom, Skype, Facetime, WhatsApp type of connections.
Book a time for all family members and friends to enjoy a TV show, movie, YouTube video, Podcast or TedTalk at the same time together. Keep the phone call active so you can share comments and laughter together.
Make a point to share at least one 'gift' you have discovered through this isolated time.
Call with some jokes ready, and some special memories to revisit together.
Book a sing-a-long with your favourite songs and/or join a virtual choir.
Encourage daily physical activity – even if it is simply moving arms and legs in a wheelchair.
Acknowledge their uncertainty or fear or sadness.
Express your appreciation and love for having their presence in your life. Let them know they still make a difference!
Make a commitment to do it all over again.

Remember, it doesn't take a village just to raise a child. It takes a village to navigate the mysterious and magical journey of life. Let's cherish the honour and stewardship of our village membership.

Rhonda Latreille, MBA, CPCA
Founder & CEO
Age-Friendly Business

Covid-19 and Post Traumatic Stress Disorder (PTSD)

Up to 2 or 3 times more reports of PTSD are documented after extended periods of quarantines. Maintaining connections through social networks help with the most at-risk populations, including healthcare and other essential workers. It is important to reach out to social support networks during the quarantine and to continue these connections once the quarantine is lifted.

Happiness

"Happiness is in your ability to love others."

Leo Tolstoy

"This article is reproduced with permission from Age-Friendly Business, no reproduction in part or in whole is permitted without consent."

---

This newsletter was prepared by Roman A. Groch who is a registered representative of Investia Financial Services Inc. (a member of the Mutual Fund Dealers Association of Canada and the MFDA Investor Protection Corporation). This newsletter is not a publication of Investia Financial Services Inc. and the views and opinions, including any recommendations, expressed in this newsletter are those of Roman A. Groch alone and not those of Investia Financial Services Inc.

Investia Financial Services Inc. does not provide income tax preparation services nor does it supervise or review other persons who may provide such services.