back
March 2014
We would foremost like to wish all our clients a warm spring. Another spring brings new opportunities and exciting new goals for us here at our branch of HollisWealth, some of which we would like to share with you.
Recent & Upcoming Changes: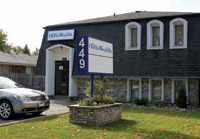 Our office continues to commit to upgrading not only technology and tools we use as well we continue to further our knowledge through continued education since our last newsletter.
Office Signage has now officially been updated and completed both inside and outside. As a reminder we are now known as HollisWealth formerly DundeeWealth.
Client Education Seminars:
Roman along with a legal advisor Calvin Wm. Beresh and real estate advisor Kevin Healey continue to host monthly seminars at Seasons First Avenue, 163 First Avenue, 3rd Floor Theater Room, Welland. April's topic will be Reducing the Clutter and Glare In Your Life. The date is April 15st, 2014 starting at 3pm. Call our office for further details.
Branch Location – Sale of Building by Landlord:
As a reminder, our building we occupy continues to be up for sale. Not to worry we are not going anywhere. At the end of August 2013 Roman's Company RomAnna Management renewed their lease for another 5 years with the landlord until December 2018. This commitment ensures to clients we will remain here at our current location of 449 Thorold Road in Welland.
Family Life Planning:
To have a successful succession plan it is very important to get your entire family involved in the process. Everyone wants to do what is best for their loved ones, but how do you know what is best for your family if you never ask them what is important to them. We continue to develop a process to better assist our clients and their families in reaching a common goal for family life planning.
We have been initiating our goals to helping our clients in protecting their family, estate and assets. These steps can be as simple as making sure your Wills and Power of Attorney are in place to a Financial Plan to Life Insurance. We will continue to develop new solutions to new circumstances as they arise with our clients and family. Our goal is to help our clients make decisions to reach their goals in family life planning.
Growing technologically, professionally and personally:
In January and February both Chelsey & Emily have taken courses in Excel, PowerPoint & Word (Office 2010) to better service our clients. Chelsey will also be continuing to take more courses in Excel to create new spreadsheets that will assist clients better understand their RESP and TFSA contributions. On April 28th and 29th Roman & Emily will be attending the "Insightful Wealth Conference" where we will learn how to streamline our processes in order to better assist our clients with their needs. On May 5th & 6th both Chelsey & Emily will be going to "My Admin" course run by our Head Office. As well both Chelsey & Emily will be running a marathon the day before on May 4th in Toronto. Keeping physically fit is as important as keeping your finances fit as well.
On May 10th all 3 of us will be out supporting Rob's Run for Kids located @ Merritt Island Trail in Welland we encourage you to come out and join us! Call our office for further details or visit Rotary Club of Welland's run site at http://www.robsrunforkids.com/.
May 23rd – May 27th, 2014 Roman will be attending the Leaders Council with Dynamic Funds at the BOCA resort in Florida. Roman will have the opportunity to spend time with award-winning portfolio managers and hear their opinions on the markets and their portfolios, as well as on why a legitimately active approach is a winning approach. He will also hear from Chris Hadfield, military pilot, astronaut and commander of the International Space Station, who will reflect on his time in orbit, on earth and how to make the impossible a reality.
What's New:
We here at our HollisWealth office on Thorold Road, additionally will be providing more service with regards to debt management. We are investing in our clients by upgrading our skills in this area. With more and more Canadians now retiring in debt, mostly because the system is set up so we'll do just that, we want to ensure that our clients don't end up part of that statistic. So we are putting this plan into action. Question we have for our clients:
What year are you on track to be completely debt free, including home equity lines of credit?
Debt truly can be a tool when it's managed as part of a financial plan. If you could add tens or hundreds of thousands to your bottom line by managing debt more efficiently, would you be interested in that??
Tip of the Quarter: New Regulation Coming…
The Canadian mutual fund industry may be facing some of the most significant regulatory changes it has seen in a long time. The changes—some ready to be rolled out, some still under development and some at the discussion stage. Discussion with regards to the following:
Requiring advisors to specify the services to be provided in exchange for trailer commissions.
Creating lower-fee classes of fund units or shares for do-it-yourself investors that would pay reduced trailer commissions or none at all.
Unbundling of the trailer commission from management fees and requiring it to be charged and disclosed as a separate asset-based fee.
Separate series or classes of funds for each purchase option.
Capping of trailer commissions.
Implementing additional standards or duties for advisors.
As things continue to develop we will continue to ensure our clients are well informed and we here continue to upgrade our knowledge and services we provide to our clients.
Our Philosophies:
A thorough understanding of the facts is critical to reaching one's goals.
Addressing and controlling financial risk and lifestyle needs is more important than trying to time market and lifestyle events.
It is far harder to be unique than to follow the crowd, and doing what is right is not always following the crowed.
Clients' trust is earned by providing exceptional service focused on their unique needs.
Integrity is a core element of trust. Without integrity, any relationship is superficial and unreliable.
Long-lasting, loyal relationships are developed by putting needs before our own, by being fair to all concerned, and by giving and helping each other.