back
March 2021
Spring is in the air! Can you feel it?
It is nice to finally welcome the warm weather. With the new season rolling in, we have been focused on touching base with our clients and making sure that we are here for you in every way possible.
Around the Office:
We are still working physically here in the office and are available by telephone should you need us. Please feel free to call our office as we would love to hear from you.


As a reminder, every year we prepare an Annual Review for each of our clients. This is an important process to ensure we are current with the times, as well as ensuring your information is accurate and meeting your Financial Lifestyle needs. Preparing your review involves a detailed process that not only has us look back on the past year but also look at the upcoming year for potential needs that might arise and ensuring client files are up to date and accurate. To help ease some of your scheduling stress, we are currently booking Annual Reviews via WebEx meeting, telephone, or in person, depending on your preference and comfort level. For those doing their Annual Reviews by Zoom meeting or by telephone, the Reviews will be uploaded to your Client Portal and/or mailed before the scheduled meeting date.
Please note: For those clients who wish to have an in-person meeting, we are asking that you please wear a face covering during your time in the office, sanitize your hands upon arrival and complete a COVID-19 screening questionnaire with Karen. For clients that require an evening appointment, Roman has set aside Monday and Tuesday evenings during the next few months to be available. Please be advised that due to the high demand for evening appointments, we are booking these appointments 1 month in advance.
Reminder: Daily Office Meetings:
During the hours between 9:30 am to 10:30 am: Should you call during this period, please leave us a message on our voicemail as we conduct our daily office meeting during this time and phones will not be answered. This time allows us to organize our day's tasks, review the previous day's work, discuss and complete client reviews and enquiries, as well as review current rates, markets and updates on the latest news.
Online Deposits/Contributions to your Investment Accounts:
For deposits that you make online throughout the year, please update your Online Banking company name from "HollisWealth Advisory Services Inc." to "Investia Financial Services Inc" or "Investia Services Financiers". This will ensure that your deposits/payments are received in a timely manner into your account. Your account numbers for online deposits have not changed. Do not hesitate to contact us for clarification.
Launch of New Investia Mobile App for Clients: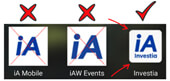 Investia now offers clients a mobile app! If you go onto your app store and search for Investia, you will be able to download it to your smartphone. Keep in mind that there may be more than one Investia app available. The correct app is called Investia and the icon shows "iA Investia". The app allows you to securely sign into your client portal and view your investments. It also allows you to view and download your documents to your smartphone.
Retirement of the Trade Name HollisWealth Coming Soon:

If you have not already noticed, slowly the trade name of HollisWealth is being retired. When Industrial Alliance purchased HollisWealth back in 2017, it was agreed we could continue to use the Trade Name HollisWealth. The time is slowly coming that the use of the Trade Name HollisWealth is coming to an end. You will start seeing more and more of the name Investia and/or Investia Financial Services Inc. Name changes are not new to this office and no other changes outside of the retirement of HollisWealth will be noticed near the end of the year. Once we know more about email changes, we will advise. We are anticipating, when the time comes, that @HollisWealth.com will change to @Investia.ca. Therefore, we are anticipating, though not official as of yet, that will change to . As we know more, we will advise and educate on the changes and dates.
Now Available ETF Investments Within your Nominee Account – Here Is What You Should Know:
Firstly, ETFs can only be purchased within a Nominee Account with Investia Financial Services Inc. Our clients are all currently in Nominee Accounts with the exception of RESP plans.
Secondly, the Nominee Account must be "Fee Based". Currently our Nominee Plans are not Fee Based. What this means is that all your investments must be switched from SERIES A Funds, which have embedded fees, i.e. the taxes and Investia Trailers are built into the investment, therefore, no separate calculations are done. F-class funds are low-fee versions of mass-market load mutual funds. They are charged on an assets-under-management basis rather than having the fee embedded within the investment. These fees are then collected and reported separately from the highest equity investment monthly by Investia Financial Services Inc..
Here is the latest Fee-Based Schedule for our office:
Option 1: FEE-BASED
Asset based fee structure
Tiered Rate:
| | |
| --- | --- |
| $250,000 - $499,999 | 1.10% |
| $500,000 - $999,999 | 1.00% |
| > $1,000,000 | 0.95% |
Minimum Household assets of $250,000.
No annual administration fee for RRSP or other registered plan types.
Fee may be tax deductible within non-registered plans.
Please contact Roman for further information and/or clarification.
Client Portal E-Signature and KYC Updates (Know Your Client):
We hope that you have been able to register and login to your Client Portal and take advantage of its many features. We can securely upload important documents to you through this portal and you can do the same for us. You will have access to certain tax receipts, statements and more dating back to August 2017.
The E-Signature (eSign) process for electronically signing order instructions and updating your Client Information makes things easy to do – even from the comfort of your couch. As we continue to assist clients with this tool, we have been updating emails and phone numbers on your KYC (Know Your Client). Your KYC is a document that we use daily in the office to help us best assist your investment needs and you will often hear us refer to it during your annual review.
Education:
While Kristin continues to work on her Insurance courses, she has also completed the course for our new ETF option, and has been increasing her knowledge of ETFs to be able to assist Roman with this new endeavor. Kristin has also attended webinars regarding Health & Dental benefits, which can be especially important and helpful for some of our clients entering retirement.
Karen has completed the Investia and FundEx Cybersecurity course, the 2020 Virtual Conference for Transactional Adminstrative Staff: Compliance – Processes for an Effective and Efficient Business Practice, and the 2020 Investia and FundEX Virtual Best Practices Roadshows: Compliance & Regulatory Update certification course. In addition to that, Karen has been actively participating in compliance, vulnerable client and investment webinars. She is currently completing the ETF training course provided by our Head Office. Karen has continued her psychology studies through Johns Hopkins University and has been paying special attention to courses that touch on how Covid-19 has affected us mentally so that we can implement that into our everyday business practices and client engagement.
Sleep Better to Live Longer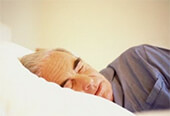 It has long been accepted that we need good nutrition and regular exercise to contribute toward our health and longevity. Did you know that quality sleep was just as important?
We always think about sleep as being restive – and this is true. However, there exists another side of sleep that reveals that there is a lot going on during this time!
The active restorative aspect of sleep assists our cells in our muscles, organs, cardiovascular system and brain to repair and renew. Our metabolism and hormones are also included in these processes, and it has even been suggested that quality sleep can also help to keep our weight in check.
Conversely, then, inadequate sleep has the opposite effect on our systems. Poor quality or insufficient sleep can increase the risk of diabetes, heart disease, hypertension, depression and anxiety, obesity, and increased risk of falls, stroke and some cancers. Prolonged sleep deprivation can decrease immune function, memory, and cognitive acuity.
It is important to also recognize that while poor sleep can affect health outcomes, pre-existing conditions can in turn influence the length and quality of sleep.
Sleep Deprivation and Impairment
No one disputes that driving while under the influence of alcohol can be deadly. Sleep deprivation and driving can also pose a deadly mix. Our concentration, reaction times, and executive functioning are reduced by lack of sleep, with the potential for tragic results. The on-going loss of just one hour of sleep (6 hours rather than 7 or 8 hours of sleep) can increase your risk of having a car accident by 33%! Furthermore, it has been suggested that 9% of all motor vehicle accidents are attributed to drivers operating a vehicle with less than seven hours of sleep.
More is Not Always Better
It is clear that too little sleep can have devastating consequences. But what about too much sleep?
A study involving 30,000 individuals revealed that sleeping for nine or more hours per night (as compared to seven or eight hours of sleep,) increased the incidence of stroke by 23%.
Furthermore, those who slept over nine hours and ALSO napped for 90 minutes or more increased their stroke risk by 85%!
Too much sleep may indicate other underlying health problems, such as sleep apnea, higher body mass index (BMI), and some psychiatric disorders. It appears, then, from the studies, the 'just right' amount of sleep for most folks falls between seven and eight hours each day.
TIPS for a Better Sleep
Establish a consistent bed-time and wake-up time. Keep this schedule on week-ends as well as weekdays.
For those with changing shift work or changing wake times, if possible, start to change your bedtime and wake times in gradual increments.
Prepare for a good sleep. About 30 minutes prior to your bedtime, start to wind down. Lower the lights, engage in 'relaxing' activities, and shut down electronics.
Don't eat just before bed.
Avoid alcohol just before bed – it may help you fall asleep initially, but will contribute to waking up a short time later.
Eliminate caffeine hours before bed.
Sleep in a dark room, set to a comfortable temperature, and eliminate as much noise as possible.
Eliminate 'blue light' from electronic devices.
Catch-Up?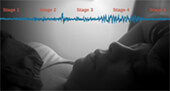 Most people experience some form of sleep deprivation at various points in their lives. Work demands, all-nighter cramming for exams, shift work, jet lag, and parties can all disrupt our regular sleep patterns. Although it is best to avoid 'sleep debt,' you may be able to recover and re-set. Many individuals look to week-end sleep-ins and naps to recover from a sleep debt. The jury is still out on whether this short-term solution is actually helpful. Sleep experts suggest instead, that a more effective approach is to incorporate the long-term tips identified above. Above all, give your new habits time to become routine.
Sources: SleepFoundation.org; verywellhealth.com
Rhonda Latreille, MBA, CPCA
Founder & CEO
Age-Friendly Business
The Stages of Sleep
The main stages of sleep include 3 progressive stages of non-Rapid Eye Movement (REM), and the final stage of REM. Some researches break it down further to 4 stages of non-REM, with the 5th stage of REM. During the non-REM stages, we fall progressively into deeper stages and levels of sleep, where our breathing rate, brainwave rate, and temperature gradually reduces. The deepest stage of non-REM sleep is believed to be the most restorative. We dream during the REM stage, and this stimulation helps our brain sort through and store information. We cycle through these stages a number of times throughout the night.
Balance
"There is virtue in work and there is virtue in rest. Use both and overlook neither."
Alan Cohen
"This article is reproduced with permission from Age-Friendly Business, no reproduction in part or in whole is permitted without consent."
---
"This newsletter was prepared by Roman A. Groch who is a registered representative of Investia Financial Services Inc. (a member of the Mutual Fund Dealers Association of Canada and the MFDA Investor Protection Corporation). This newsletter is not a publication of Investia Financial Services Inc. and the views and opinions, including any recommendations, expressed in this newsletter are those of Roman A. Groch alone and not those of Investia Financial Services Inc.
Investia Financial Services Inc. does not provide income tax preparation services nor does it supervise or review other persons who may provide such services.