back
September 2016
Lets all welcome in fall and the crisp autumn air. With Halloween around the corner we are starting to see pumpkins, leaves are changing colours and the kids are getting excited for Halloween! What are you dressing up as?
Annual Reviews:
Every year our goal is to meet with each and every client to review portfolios, update any information and catch up on any life changes. This is not only to ensure we have up to date information for compliance but to ensure we continue to build our relationships and to ensure your portfolio still matches your lifestyle and vision. We enjoy working with our clients.
Please let us know if you have any changes to your personal information such as address or phone number, or let us know if you would prefer to be contacted by email. If returning our call after hours feel free to leave a detailed message on how best to reach you. We genuinely look forward to hearing from you.
To Our Clients:
To answer a question regularly asked of us- yes, we are open to referrals. If you have a close family member, friend or coworker who is interested in bringing their portfolio to us here at HollisWealth we look forward to hearing from you/them. Please keep in mind we have a minimum portfolio value for any new client (speak to Roman for details).
Financial Life Planning:
This Fall our office will be growing even further with new staff and we have been educating ourselves on new ways to better serve our clients. We have learned a great deal and are looking forward to sharing with everyone when you come in for your annual review, visit or to discuss any other concerns or opportunities.

Michael R. Rutka, has recently joined the HollisWealth team during the third quarter of 2016 and looks forward to cultivating new relationships with new and existing clients. Mike will be supporting Roman A. Groch and very shortly, end of October at the latest, become his Licensed Assistant. Mike brings with him sixteen total years of financial services experience including seven years of back office / trading support and nine years of direct client account management and lead agent administrative support. Current priorities involve coming up to speed with all extensive operating protocols, compliance and internal training modules.
For those with concerns about estate taxes please contact our office to set up a time with Roman to discuss EAT: Estate Administrative Tax and how we can work together to minimize any cost to you. We have come across new opportunities for applicable clients to keep your money within your estate vs CRA.
Growing technologically, professionally and personally:
Roman recently in September attended the Fidelity Investment Conference in California and as well in July with Manulife Mutual Funds Summit in New York. Roman had the opportunity to spend time with award-winning portfolio managers and hear their opinions on the markets and their portfolios. Roman took a lot of valuable insight home with him covering areas such as the economy and financial markets. With the upcoming U.S. election this gave Roman further insight of things that may be ahead, more on the election later in this newsletter. This is a direct cost to Roman, however this is a worthwhile expense to get a better understanding with regards to the financial markets, economy and political financial environment as well as upcoming changes in the financial industry. Furthermore, gives Roman an opportunity to meet and discuss directly with the portfolio managers their strategies and opinions, an invaluable opportunity for insight to be able to better service and advise clients on their investments.
Recent News: Canada Pension Plan (CPP) enhancement proposals by the Federal Government
Under current CPP rules the goal is to replace 25% of pensionable income, set at a maximum earnings level of $51,400. Required premiums of 9.9% are evenly split between employer and employee (4.95% each). New CPP proposals will look to replace 33% of pensionable income up to a maximum earnings level of $82,700 by the year 2025. With this increased premium obligation by both employer and employee business owners and employees will have to consider the added expense / paycheque deductions and budget for the new premiums. Some companies may have to make choices between new hires, existing high ranking executives and subcontractors. Companies can pass the cost of full CPP funding to subcontractors which could result in less fulltime employees as well as a reduction of high paid executives within the company. The enhanced future CPP deductions could also impact the ability of families to save in other accounts like RRSP's, RESP's ad TFSA's. Saving more available dollars now could very well be a smart move.
Source: Evelyn Jacks – President of Knowledge Bureau (Article Dynamic Advisor)
What does the upcoming United States presidential election mean for investors?
For long-term investors like us, it's business as usual. While volatility is likely to be high in the coming weeks, we expect a return to normalcy thereafter once the markets better understand and digest the new mandate and economic policies of the incoming Commander in chief.
Tip of the Quarter: A River Flows Through Us- Article by Alan Atkins, CPCA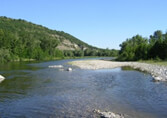 This morning my wife asked me what I thought was the most important life lesson I had learned in my 62 years on this planet. It got me thinking about rivers and the power of water. As always, nature holds all the lessons if we know where to look.
From the time we are born we chafe against boundaries, resenting our parents' restrictions, social norms and even traffic laws. After all we are born free, why should we ever be in chains? Yet, the mightiest river in the world would be nothing without its banks. No matter how much water it holds, its power comes from being channelled within its limits. If they were gone all that water would spread out until it evaporated to nothing.
So it is with us.
As I have grown older, I discovered that my most important life lesson has been to recognize and accept my limitations.
Yet, far from being depressing, this has freed me.
Losing our illusions, without giving up our dreams is a necessary watershed on the path to maturity.
Young people suffer from the illusion of infinite possibilities. There is a time for unrestrained idealism but if we don't outgrow it, it leads to dissipation of our energy and lack of focus. Like an unrestricted river, our life force becomes scattered and wasted.
Accepting myself as a limited human being, embracing my faults and loving myself as I am does not lead to complacency but allows me to concentrate my energy and dwindling time on what I believe matters. Nothing so concentrates the mind as realizing our own mortality. It frees us of the burden of caring what others think or whether we are following the crowd.
Knowing our limitations frees us to be compassionate in a world that sorely needs compassion. It allows us to rise above pain and disappointment, personal losses and the drag of the past to love and be at peace with ourselves.
I discovered too that while age and experience is essential to attaining wisdom, these are no guarantees. There are young fools and old fools but old fools lack an excuse.
I find myself for the first time, free of anxiety about what I will do with my life and giving myself permission to simply live it.
I no longer feel compelled to judge the value of life by doing but by being.
A cure to feeling washed up is to ponder a river flowing. Watch the power of the water between the banks, and how obstacles increase its power on its way to the sea.
And remember that even the mightiest river flows downhill.
Article by Alan Atkins, CPCA
www.AgeFriendlyBusiness.com
© All Rights Reserved World-Wide. No reproduction in part or in whole is permitted without consent.
Jennifer Legge, Newsletter Editor for Age-Friendly Business®, Jennifer@AgeFriendlyBusiness.com
---
This newsletter was prepared by Roman A. Groch who is a registered representative of HollisWealth Advisory Services Inc. (a member of the Mutual Fund Dealers Association of Canada and the MFDA Investor Protection Corporation). This newsletter is not a publication of HollisWealth Advisory Services Inc. and the views and opinions, including any recommendations, expressed in this newsletter are those of Roman A. Groch alone and not those of HollisWealth Advisory Services Inc.
Investia Financial Services Inc. does not provide income tax preparation services nor does it supervise or review other persons who may provide such services.