back
September 2019
Wow! It is already Autumn!
Throughout the year, we are productively preparing your Annual Reviews. Please keep in mind that Annual Reviews are booked minimum 10 business days in advance as we need this time to prepare for your meeting. This allows us time to carefully assess your portfolio, and prepare paperwork in advance. Annual Reviews are very important to clients' portfolios as many changes come throughout the year in both the lives of the clients, and on the investment we recommend such as Manager changes and mergers.
Please note: For clients that require an evening appointment, Roman has set aside Monday, Tuesday, and Wednesday evenings during the next few months. Please be advised that due to the demand for evening appointments, we are booking a month in advance.
Reminder: During the hours of 9:30 am to 10:30 am, if you call during this period to please leave us a message on our voice mail as we conduct our daily office meeting during this time and phones will not be answered. This time allows us to organize our day's tasks, review previous day's work, discuss and complete client reviews and enquiries, as well as, review rates, markets and get current on the latest news.
Around the Office:
As always, we continue to monitor the investments we recommend as well as others, and continue to rebalance portfolios accordingly using Strategic Asset Allocation, especially during our Annual Reviews.
Kristin has also been working diligently on preparing annual reviews, statements, updating and ensuring accuracy of client information/files, and ensuring that office procedures are up to date, relevant, and efficient.
Education
Roman attended the Manulife Fund Summit in Chicago at the end of September, where he had the opportunity to meet with industry leaders and get updated on the latest in the industry. At this conference Roman had the honour to sit with portfolio managers from Manulife Strategic Income Fund, Manulife Dividend Income Fund, Manulife US Equity and Manulife Global Equity (Mawer). Valuable insight was obtained and it is always nice to get the inside scoop of what is going on, as well as the thoughts of the managers vs all the hype that gets posted on the internet - I would caution clients to be careful as to what they read on the internet for the full truth does not always get posted. Come the week of October 21st Roman will be attending the Investia Financial Services Inc. conference in Toronto. Here he will get further insights as to what is new and what is coming not only from Investia Financial Services Inc. such as new improved client portal, but new developments that will be coming/implemented by both the industry and Investia. Please note that as important as it is to stay on top of things and continue getting further educated, Roman will be off on personal vacation the week of November 3rd and the week of November 24th. This is long overdue vacation time, so that he may relax and get some much needed down time.
Factors Influencing your Retirement Goals
Deciding when to retire depends on many factors. Your preferences are as unique as your retirement vision. Regardless of when, why or where you retire, it's important to have a written financial plan that supports your decision-making when the time comes.
Saving for retirement is top-of-mind for many of us. However, competing savings priorities can often distance you from a fully funded retirement. An advisor can provide the guidance, discipline and partnership to create a financial plan that prioritizes your goals and keep you on track.
Debt is a common obstacle many Canadians face when planning for their retirement. Significant levels of debt can impede retirement savings progress and push back your retirement vision. Having the right financial advice and a personalized plan to reduce debt will bring you one step closer to your dream retirement.
More and more, Canadians approaching retirement are considering working to some degree in retirement. Do you want to work part-time to fund your global travel plans? Perhaps you want to leave a legacy for your children of grand-children? Partnering with an advisor can assist you in managing the money you earn and ensure that it fulfills your desired goals.
Knowing your retirement is funded can bring an empowering feeling. A written financial plan which lays out sources of retirement income, investments and accounts can give you the confidence and reassurance that you can retire on your own terms. Your financial advisor can work with you to build a comprehensive view of your retirement income.
Each of us can remember a time when we discussed great ideas but wished we had written them down. Your retirement can sometimes be one of these topics left to conversation. Putting your vision and finances on paper can help you structure and plan a comprehensive strategy to help you realize your retirement dream.
71% of pre-retirees said that they have a written financial plan that specifically deals with their retirement, 23% did not, and 6% did not know.
A common piece of advice passed down from one generation to the next: be prepared. As with achieving many goals, retirement starts with being prepared – financially, emotionally, socially and physically. Whether you are planning to retire or have already done so, being prepared across all four dimensions is often influenced by having a written financial plan.
The transition to retirement can be complicated, shifting from one life stage to another. Canadians approaching retirement often are worried about how they will fare transitioning from working life to retirement. Working with a financial advisor to develop your personalized written plan will make you feel confident about your retirement.
A few steps that can help you achieve retirement fulfillment:
Envision your Retirement Lifestyle
Will you be a global traveler or pick-up a new hobby? Learn a new skill or spend more time with family? Many will do a combination of all of the above and much more. Every retirement journey is unique.
Try It Out
Try some retirement activities before you retire. This gives you an opportunity to get a better sense of those activities you like to do and to revise your plan ahead of time.
Get Advice
Work with a financial advisor to create a sustainable plan that fits your vision of retirement.
Create Your Retirement Paycheque
Diversify your retirement income to protect against the unexpected.
Don't Forget About Debt
Think about the type and level of debt that you are comfortable carrying.
Get Involved
Be an active participant in your retirement planning – talk with your financial advisor regularly to evaluate your progress on achieving your retirement vision.
Excerpts from "2019 Fidelity Retirement Survey", reproduced with permission from Fidelity Investments.
Making Change Stick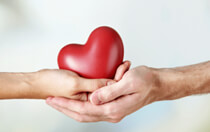 Maybe it was a heart attack…
Tipping into the type 2 diabetic range…
Or any other health or social scare.
The writing is now on the wall – something needs to change.
Eat better, exercise more, lose weight, stop smoking, drink less, meditate more, sleep well.
Typically, after the shock and fear are processed, there is a real and well-intentioned commitment to do things differently. This time, things will be unlike before – until it isn't.
What is it that makes change so darn hard to maintain?
As it turns out, faulty thinking, misplaced motivation, poor strategies, and ineffective tools can all contribute toward that famous road paved with good intentions.
Some factors that can sabotage our success:
Biting off too much to chew at once. I can really relate to this one! An 'all or nothing' kind of gal myself, I tend to think I can go from 0 to 1000% within a variety of arenas all at the same time and within one single leap of faith. This is typically a surefire way to crash.
Drawing on negative motivation rather than positive motivation. While fear, regret, shame and guilt may cause us to try something new, research suggests that these motivators do not work long term.
Relapses seen as failure. Slips or relapses are all part of the process and do not suggest that you have to throw in the towel! Get back on track asap and do not let the 'slip' justify a regression to old habits.
Thinking about change as a finite event instead of an ongoing process. Change requires an ever evolving on-going cycle of new thinking, behaviours, tools, reviews and commitments.
There exists a variety of approaches and theories about creating new habits and keeping them. Rather than provide you with a literature or theoretical review, I decided to interview a respected friend who has successfully implemented and maintained new lifestyles following a sudden heart attack.
I'll share his experience, insight, and wisdom.
Make a decision. He decided in no uncertain terms that he wanted to live. Period.
Be accountable to someone. For my friend – it was his wife. That was brave!
Surround yourself with people who are committed to help you in your change – do not indulge folks that will enable habits that don't support the new you. Change can be threatening and uncomfortable for those around you. 'One more drink or bite, or one less workout' just might in fact hurt you after all!
Your first appointment that you commit to daily is your appointment with yourself – for you! Write it down, schedule it! It is not going to happen organically. My friend protects his heart-healthy workouts as his most important business appointment of the day. This time is NOT negotiable.
Use tools that support the new behaviour. Find out what triggers support your adaptive behaviour, and what triggers tempt you away from healthier behaviours. Another friend, upon awakening, puts on her work-out clothes, and this puts her in a position to exercise BEFORE her shower and prep for her business day.
I have heard it said that if a goal doesn't scare the daylights out of us – it is not worthy of us. An interesting perspective when facing the 'opportunity' to create new lifestyles and important new outcomes. Remember to take small positive incremental steps and celebrate each movement forward.
The evolving canvass of our life is worth the contemplation, dedication, and implementation of each careful intention and brush stroke.
Rhonda Latreille, MBA, CPCA
Founder & CEO
Age-Friendly Business
Sarcopenia and Aging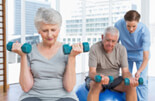 Sarcopenia refers to the gradual decline in muscle mass. As we age, this shift can negatively impact our functional fitness and increase the risk of falls, lower bone density, and increase glucose intolerance. Although a number of factors can contribute to the advancement of sarcopenia, remaining active and introducing progressive resistance training helps to deter the onset.
Change
"If we are to achieve results never before accomplished, we must expect to employ methods never before attempted."
Francis Bacon
"This above article is reproduced with permission from Age-Friendly Business, no reproduction in part or in whole is permitted without consent."
Community Involvement
YMCA of Niagara is transforming its Rotary Club of Welland outdoor area, at the Niagara Centre location, into a naturalized playground.
Just the facts:
The naturalized outdoor play space will include a variety of interactive components and toys that will promote creative play and learning.
It will include a variety of naturalized playground elements including a climbing tunnel, mud kitchen, sandbox, planter boxes, large chalkboard and possibly a climbing structure. Other elements are yet to be determined.
Demolition was done last fall, and construction started up on March 27. More playground elements and components will be arriving in the near future.
The playground is funded in part by a donation from Roman A. Groch and Family, members the YMCA.
The Niagara Centre YMCA is the second location to have this feature after the Walker Family YMCA in St. Catharines.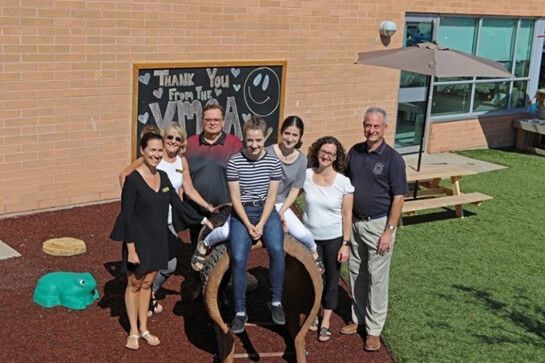 ---
This newsletter was prepared by Roman A. Groch who is a registered representative of Investia Financial Services Inc. (a member of the Mutual Fund Dealers Association of Canada and the MFDA Investor Protection Corporation). This newsletter is not a publication of Investia Financial Services Inc. and the views and opinions, including any recommendations, expressed in this newsletter are those of Roman A. Groch alone and not those of Investia Financial Services Inc.
Investia Financial Services Inc. does not provide income tax preparation services nor does it supervise or review other persons who may provide such services.