back
September 2022
Colours changing, leaves falling, pumpkin spice & apple cider! After a nice, less-restricted summer, autumn has officially arrived in true autumn-style.
We hope everyone was able to enjoy their summer now that the pandemic restrictions have eased quite a bit. Now it is time for Fall Fairs, Pumpkin Patches and everything that makes this season enjoyable!
Around the Office:

With Covid restrictions easing, Kristin continues to research policies to ensure that, as an office, we are doing our part to continue keeping staff and clients safe and comfortable while we all try to navigate returning to a state of normalcy.
Daily coordination is always at the top of Kristin's priorities as she continues to keep our office efficient and productive to ensure we are providing the first-rate Client Service that we are known for.
Being her favourite season, Kristin is looking forward to enjoying Fall Fairs, Pumpkin Patches, Halloween & Thanksgiving with her family.

Education & Community Involvement
In October, Roman will be attending several conferences. The first one will be the Investia Financial Services Conference on October 4, 2022. He will meet with industry experts that will be discussing markets, cyber security and technology changes to help us service our clients. On Wednesday, October 12th, Roman will be attending a PPI conference to get caught up on the Insurance industry as to new products and services that are available to our clients as well as an update with regards to compliance issues in the Insurance industry. During the week of October 18th, Roman has made an investment to travel to San Diego where he will have a chance to meet and interact with several Portfolio Managers, Economists as well as, Compliance experts. He will get the inside scoop and a better understanding on recent developments, markets, taxation and compliance.
In December, Roman will be attending a virtual conference put on by Fidelity once again to get an inside perspective from various Portfolio Managers, Economists and Compliance with regards to the markets as well as Taxation. This is to ensure he is up to date and aware of recent developments within the financial markets and the industry itself. Roman has committed not only his time but financially as well to ensure that the advice he is giving is current. He also wants to ensure that the advice is not a page out of some article or report but directly from the Portfolio Managers themselves. This gives him an opportunity to interact in person with most of the managers that he recommends.
In November, Roman will be taking some personal time off to spend with family.
In addition to attending several webinars to further her knowledge of various topics (beyond finances) that come up during reviews with clients, Kristin will be attending the Investia Administrative Conference. She will see what our Head Office is doing to assist administrators to ensure that we are able to provide outstanding service to our clients. She will be getting updates on technology, processes, security, compliance and more.
Reminder Staying Safe by Being Aware Of COVID-19 SCAMS
As a reminder we thought it to be important to revisit the below situations especially as we are coming out of COVID. Some popular SCAMS to be aware of are as follows:
Phone
Fraudsters will call unsuspecting people, pretending to be from the Public Health Agency of Canada, stating they have results showing that the individual has tested positive for COVID-19. They then trick the individual into providing personal and financial information to pay for a prescription.
How to protect yourself: If you receive a call from an unknown number, it is best not to answer it. If answered, do not provide, nor confirm personal or banking information over the phone unless you can validate that the caller is legitimate.
Texts
Fraudsters send text messages, pretending to be the Red Cross, providing a link to obtain a free face mask.
How to protect yourself: The Canadian Red Cross has confirmed that it is not sending out any text messages or emails for free masks. Should you receive a text message stating they are the Canadian Red Cross, keep yourself safe and don't click on any link, and don't reply to the text message. Simply proceed to delete it immediately.
Door-to-Door
Fraudsters are going door-to-door saying they are doing home tests to detect COVID-19. This can result in: trying to sell fake tests, unapproved drugs — or even worse — a home invasion.
How to protect yourself: There are currently no such home detector tests available. Only hospitals can perform the tests and no other tests have been approved by public health. Do not answer the door to someone who is trying to sell you anything or pretends to be from the public health system.
Fake Charities
Fraudsters are setting up fake charities, pretending to be the Canadian Red Cross or other well-known charities, and are reaching out to people via email or social media to trick them into donating money to help people affected by this crisis.
How to protect yourself: Verify publicly available information about the charity, including its name, address and telephone number. A legitimate charity will provide information about the charity's mission, how your donation will be used and proof that your contribution is tax deductible. You can also ask the charity for their registered charitable tax number and confirm the charity's registration information by calling 1-800-267-2384.
Phishing Emails
Fraudsters can send COVID-19 phishing emails pretending to be from a Government Department to provide an "urgent" update or financial refund. These often-trick people into opening malicious attachments or ask them to confirm personal and/or financial information.
How to protect yourself: Do not open emails from unknown senders, and do not click any links that are suspicious. Instead, visit the official website from the Government Department to obtain more information.
You can reach the Canadian Anti-Fraud Centre (CAFC) at 1-888-495-8501 from 10:00AM to 4:45PM Eastern Time. If you are victim of any COVID-19 related scams, be sure to report it to the Canadian Anti-Fraud Centre. This information could prevent someone else from being a victim of fraud and helps identify new types of COVID-19 related scams.
Sources:
Canadian Anti-Fraud Centre https://www.antifraudcentre-centreantifraude.ca/features-vedette/2020/covid-19-eng.htm
CBC https://www.cbc.ca/news/canada/toronto/coronavirus-scams-canada-1.5501958
Investia Client Portal Getting Updated With A Better Security Feature – MFA.
Shortly, our Investia Client Portal, both online and the APP, will be updated with an enhanced security feature – MFA. MFA stands for Multi-Factor Authentication (MFA). Multi-Factor Authentication adds an extra protection to your online accounts. Feel free to contact our office should you have any difficulties.
Not only has Investia enhanced security to online client accounts, our office has made several enhancements to the computer and software systems to help us better protect our clients information ensuring firewalls, encryption of files, backup systems just to name a few are up to date and in place. This is a huge yearly investment for our office, but to protect, as best as we can, our clients' personal information is a top priority within our office. Lately on the news we have heard much about ransomware. Ransomware is a malware designed to deny a user or organization access to files on their computer. Our office continues to update and as best as possible remain one step ahead of hackers as best as we can. Investment into our systems constantly, we feel, is very important to consistently stay on top of.
Investia Clients get 20% OFF any Willful plan:
A few clients have brought to our attention that the reason they have not completed their WILL as of yet is the cost and that their WILL would be pretty straight forward. We now have a solution for you through Investia. Create your legal WILL for as low as $79.20. No Notary or Lawyer required. Though we do highly recommend using a Lawyer to create your WILL and Power of Attorney forms, this maybe a solution that is better than not having a WILL or Power of Attorney in place ( Property and Personal Care). Please visit the following website for further details. https://partners.willful.co/investia-en
When should I withdraw/take my CPP and OAS Payments?
This is a question asked of our office quite a bit and yet the answer is not all that simple. The quick answer from a mathematical standpoint is as follows; let us know when you will die and the calculation is quite simple for the correct response. The problem is, no one really knows when their time will come and the reality is we are all living longer as well. In addition, COVID-19 has really changed the way we want to live. Life has changed and so has our retirement expectations with most of us wanting to live independently within our homes that we worked so hard to pay off the mortgage to live free of any debt. So without truly knowing when our time will come to pass, let us look at the obvious, that being, CPP and OAS are annuities for life, unlike RRSP/RRIF, TFSA, etc.. which are not annuities for life. The second item to take into account is TAXES… yes that bad word taxes. The goal is to draw enough income necessary for cash requirements without forcing yourself into the next tax bracket.
This is why we suggest the use of a good Tax Advisor and not a Tax Preparer to help answer this question. Our goal would be to deplete/drain the Registered Plans as quickly and tax efficiently as possible as well as delay the CPP/OAS payments based on the assistance of a Tax Advisor yet keeping in mind our Cash needs. Remember that CPP/OAS payments are an annuity, payments for life unlike RRSP/RRIFs and TFSA accounts. You are typically eligible for CPP at age 65, with penalty as early as age 60 and by not claiming until age 70 you could get 142% of the income you would receive at age 65. An annuity for life: this payment could be longer than you thought you would live until. There could be a huge value in delaying your CPP/OAS pension. Odds are we will live beyond the age of 70 and thus far government plans remain well funded. See below example of payments assuming a CPP entitlement of $1,000.00 per month and OAS payment of $615. Example of payment expected taking CPP earlier, as well taking CPP/OAS later than Age 65. (Monthly amounts)
| | | | |
| --- | --- | --- | --- |
| CPP taken at ages | 60 | 64.0% | $704 |
| | 61 | 71.2% | $783 |
| | 62 | 78.4% | $862 |
| | 63 | 85.6% | $942 |
| | 64 | 92.8% | $1,021 |
| Median / Standard | 65 | $1,100 | |
| | 66 | 108.4% | $1,192 |
| | 67 | 116.8% | $1,285 |
| | 68 | 125.2% | $1,377 |
| | 69 | 133.6% | $1,470 |
| | 70 | 142.0% | $1,562 |
| OAS taken at ages | 65 | $642 | |
| | 66 | 107.2% | $688 |
| | 67 | 114.4% | $735 |
| | 68 | 121.6% | $781 |
| | 69 | 128.8% | $727 |
| | 70 | 136.0% | $873 |
Markets:
Although the headlines continue pointing to the markets as 'doom and gloom', our office isn't quite singing the same tune. There is no disputing that this has been a challenging year for the markets, both physically and emotionally. The news / media have mentioned the words inflation and recession often this year to define the market's reaction. The main items that define a Recession (like the Great Depression) are no jobs available and people unable to find employment, no money available to pay for the things that we need and no production. We are seeing/hearing the exact opposite of that whether it is looking outside or talking to portfolio managers and economists. Companies are having a difficult time trying to hire employees for the many positions available. We have learned to live with less and have additional funds at our disposal. We are waiting to travel and companies are producing more than in previous months as they look to increase supply. Additionally, fears of inflation have gained traction recently….however, didn't we cause inflation? Whether it was renovations (price of wood skyrocketing), new vehicles / cars, the government printed hundreds of billions of dollars to help through the early onset of the pandemic. We had FOMO (Fear of Missing Out) and bought up supplies. But how many cars can we buy? How many renovations can we do? The supplies will come back as demand for it starts to reduce. So lately the excitement/fear has been over inflation. In September, the markets based on comments made by Bank of Canada, again comments only that they would continue aggressively raising rates. It was thought in September that another 2 rate hikes of 0.75% would be implemented by end of 2022. In the first few days of October, inflation continues to drop; markets are anticipating only a 0.5% rate hike from Bank of Canada and hence in the first few days of October we saw a rally/bounce back in the market. That said, the goal of the Bank of Canada is to get the inflation number around 3% or lower. In August CPI fell down to 7.0% in from 7.6% in July and down from 8.1% in June. Another fear is that the Bank of Canada not be too aggressive with its rate hikes and resulting in a possible recession causing the economy to coming to a standstill. On October 6th , Bank of Canada Governor Tiff Macklem said he remains firmly on an interest-rate hiking path because policy makers are worried about elevated domestic price pressures and inflation expectations becoming entrenched. He painted a picture of an economy that is still "clearly" in excess demand, with business facing an extremely tight labour market, wage gains broadening and underlying inflation pressures showing no signs of letting up. These comments poured cold water on arguments that the Bank of Canada will diverge much from what's expected to be a more aggressive Federal Reserve/higher interest rates. Markets are expecting a 0.5% interest rate hike come October 26th.
With that being said, the market reaction this year, albeit disappointing and frustrating, is due to the reasons above as well as fear. Panic has set in and one of our favorite tools to monitor this is the fear / greed index from CNN.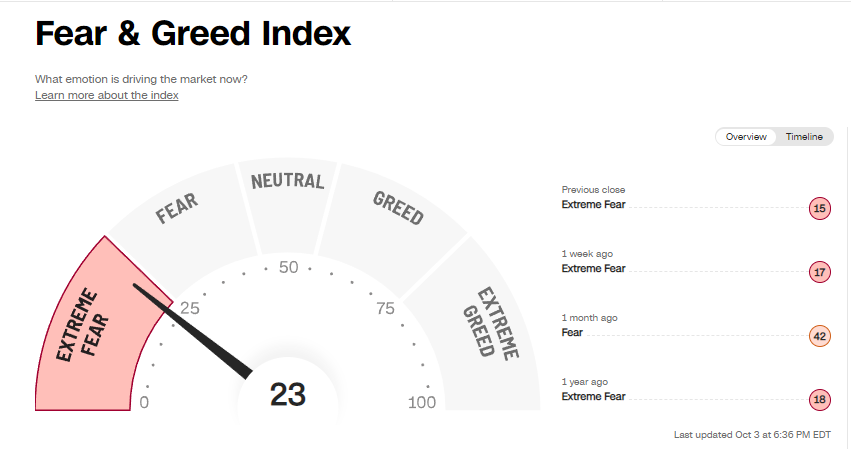 October 6, 2022 this Index was around 32, FEAR vs EXTREME FEAR.
Source: https://www.cnn.com/markets/fear-and-greed?utm_source=optzlynewmarketribbon
As we watch the markets go up and down and read the increasingly negative headlines, it's critical to understand that this is simply short-term 2022 noise when it comes to your financial position. Let's not forget the work we did before getting to where we are now. We have long prepared for this possible event by making smart, responsible asset allocation decisions. We crafted a long-term plan and diversified your holdings for situations just like this.
Our office continues to monitor the investments on a daily basis and stay current on our knowledge. We continue to stay in touch with the portfolio managers through in person and virtual conferences. Portfolio Managers continue to make changes behind the scenes as opportunities arise. More importantly, we have done our best to stay in touch with and educate our clients on what is happening as well as the reasons why. The toughest part in times like this is making educated, not emotional and quick decisions.
We have been discussing this in our phone calls, meetings and discussions with you. We know it is not easy but we thank you for your patience and perseverance. Any questions or concerns, please call our office. You know us, we love to talk and chat!
As a reminder… Patience is a person's ability to wait something out or endure something tedious, without getting riled up. Having patience means you can remain calm, even when you've been waiting forever or dealing with something painstakingly slow.
Perseverance is persistence in sticking to a plan. Steady persistence in adhering to a course of action, a belief or a purpose; steadfastness.
Annual Reviews
As a reminder, every year we prepare an Annual Review for each of our clients. This is an important process to ensure we are up-to-date with the most current information, as well as ensuring your information is accurate and meeting your Financial Lifestyle needs. Preparing your Annual Review involves a detailed process that not only has us look back on the past year but also look at the upcoming year for potential financial needs that might arise as well as ensuring client files are up to date and accurate. Spending the time to go over your entire portfolio is even more important given the current situation in the world. A lot has changed for many people and many things that may have not been thought about before have come to the forefront. To help ease some of your scheduling stress, we are currently booking Annual Reviews via virtual meeting, telephone or in person, depending on your preference and comfort level. For those doing their Annual Reviews by Zoom/Microsoft Teams or by telephone, the reviews will be uploaded to your Client Portal and/or mailed before the scheduled meeting date.
For clients requiring an evening appointment, Roman has set aside Monday and Thursday evenings during the next few months to be available. Please be advised that due to the high demand for evening appointments, we are booking these appointments at times as much as one month in advance.
Please note: For those clients who wish to have an in-person meeting, please let us know if you would like us to wear masks for your appointment, as we will gladly do so to make everyone feel as safe and comfortable as possible.
With easing COVID-19 restrictions, protecting our clients, staff and their families is still of our upmost priority. At the beginning of each week, our staff members continue to take a COVID Rapid Test to ensure we test negative.
At this time, our office continues to remain closed to public/walk-ins. We are available by telephone and in person meetings by appointment only.
Reminder - Daily Office Staff Meetings - 9:30am to 10:30am:
Should you call during these periods, please leave us a message on our voicemail. We conduct our daily office meetings during these times and phones will not be answered. This time allows us to organize our day's tasks, review the previous day's work, discuss and complete client reviews and enquiries, as well as review current rates, markets and updates on the latest news.
Part of our daily process includes having meetings with each other to review how the day has progressed, any client contact to keep the office aware of and opportunities to make improvements in our processes/day to day activities.
During the daily meeting, Roman and Kristin meet to go over any industry changes that could impact our teams' processes and procedures, client paperwork that needs to be addressed, items needing to be followed-up on, ensure the office health and safety procedures are being followed and ensure our client service is improving every day for our clients.
International Day of Older Persons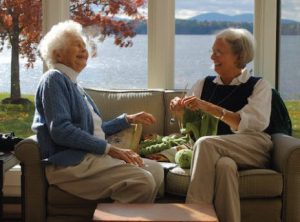 This year, the theme is: "Resilience of Older Persons in a Changing World."
Older persons have always made a significant contribution to our society and are increasingly playing even more vital roles during these times of change. They are often among the most resilient people in times of crisis, and they have much to offer their families, friends, and neighbours.
Older persons have:
Exhibited resilience through sharing their knowledge and expertise. They have passed on their skills and knowledge to the next generation, helping to build a strong foundation for the future. Additionally, they have continued to contribute their talents and skills well into their older years, demonstrating that age is no barrier to success.
Been resilient in the face of adversity. They have faced challenges such as poverty, illness, and discrimination with courage and determination. By overcoming these obstacles, they have shown that nothing can stop them from achieving their goals.
Remained resilient while adapting to change. With the ever-changing landscape of our world, they have continuously adapted to new technologies, social norms, and ways of life. This has allowed them to stay connected to their communities and contribute their unique perspectives.
You can't talk about resilience without highlighting the significant contribution of older women. Despite facing discrimination and exclusion, they have persevered and continued to make valuable contributions:
Older women have been a backbone of the family and community for many years.
They have often been the main source of income for their families.
They have been a source of wisdom and knowledge for future generations.
They have been leaders in their communities and countries.
They have been fighters for justice and human rights.
They have been innovators and creators in all fields of work.
They have been caregivers to their families and friends.
They have been a symbol of strength in the face of adversity.
In Celebration
One way to celebrate the contributions and resiliency of older persons is to hold events and activities that promote education and awareness on aging issues. This can help to dispel myths and stereotypes about aging and show that older persons are a valuable and valued part of our society. Correct information about needs and greater understanding of perspectives contributes toward the development of meaningful policies and actions. Another way to celebrate older persons is to highlight their achievements and accomplishments to inspire other generations and demonstrate that age is not a barrier to success. Finally, we can support the established policies and programs that enhance the quality of life for older persons to help ensure that all older persons have access to the resources they need to continue to live a healthy and enriching life.
The variety of International Days formalize the opportunity to shed light upon current and emerging global challenges and their corresponding opportunities. We can help to define and move toward a world that embraces further the dignity and humanity of all persons. It only requires a commitment to reflect, learn, share and where possible, take action.
Rhonda Latreille, MBA, CPCA
Founder & CEO
Age-Friendly Business
Aging and Physical Resiliency
There are several factors that contribute to physical resiliency. One key element is simply having a positive attitude and a sense of purpose in life. Older adults who are active and engaged in their communities are more likely to recover from setbacks than those who are isolated and inactive. Another important factor is social support – having friends and family members who can offer encouragement and practical assistance during difficult times can make a big difference. Finally, good health habits also play a role in resilience. People who eat healthy foods, get regular exercise, and maintain a positive outlook tend to be more resilient than those who do not.
Solitude
"I live in that solitude which is painful in youth, but delicious in the years of maturity."
Albert Einstein
"This article is reproduced with permission from Age-Friendly Business, no reproduction in part or in whole is permitted without consent."
---
"This newsletter was prepared by Roman A. Groch who is a registered representative of Investia Financial Services Inc. (a member of the Mutual Fund Dealers Association of Canada and the MFDA Investor Protection Corporation). This newsletter is not a publication of Investia Financial Services Inc. and the views and opinions, including any recommendations, expressed in this newsletter are those of Roman A. Groch alone and not those of Investia Financial Services Inc. Investia Financial Services Inc. does not provide income tax preparation services nor does it supervise or review other persons who may provide such services.